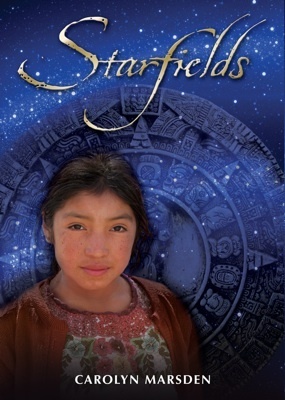 AWARDS:
Bank Street College of Education Best Books of 2012
2013 California Collection (The California Reading Association)
REVIEWS:
School Library Journal: "...Rosalba's story of self-realization is a strong one, and the juxtaposition of traditional and new ideas delivers considerable food for thought. A burgeoning environmental crisis is timely, as well."
Booklist: "...the story is so dripping with myth and mystery that kids will be intrigued, and as always, Marsden's writing is beautiful and her knowledge about children's hearts is immense."
HOW I GOT THE IDEA
During the 1990s, I was interested in the lives of the Mayans living in Chiapas during the time of the Zapatista revolt. When I revisted this interest, I came upon the more contemporary issue of the end of the Mayan calendar in 2012. STARFIELDS is told from the points of view of a nine-year-old Mayan girl in 2011, and that of a Mayan boy shaman in 600 AD. It will be released by Candlewick in fall of 2011.