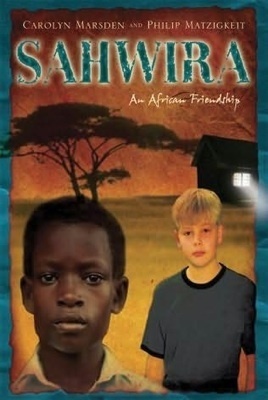 REVIEWS
"The friendship drama will hold readers, along with the confusion, conflict, and betrayal within family, church, and community….The connections with the civil-rights struggles in the U.S. will also touch readers." Booklist

"Told with sympathy and authority, this is a worthy reminder of the history of a country that still struggles today." School Library Journal

"What becomes evident as the story progresses...is that the issue is not entirely black and white, literally or figuratively; the book looks beyond race to examine questions about the meaning of being Christian, fear of Communism, family loyalty, and ethical choices... Marsden and Matzigkeit...deftly navigate the dynamic forces at play in the two boys' lives; both Evan and Blessing want to do what is right, but the right choice is not always the clear choice. The story crosses genres to bring in elements of historical fiction, intrigue, and mystery; at its heart, however, it is a tale of friendship in a volatile context, with all of its abundant confusion and complications. Offer this to readers who are drawn to strong narrative voice, or share it as a readaloud and discussion starter." Bulletin of the Center for Children's Books

"The novel is beautifully written and makes good and easy reading for historical understandings. It can also be used for literature, pleasure, and for teaching conflict resolution and friendship. Boys, as well as girls, will enjoy the book." Alan's Picks
HOW I GOT THE IDEA
While I grew up in Mexico of missionary parents, my first cousin, Philip, grew up in Rhodesia on a mission. Rhodesia is now called Zimbabwe and is a tumultuous country which is in the news a lot. Whenever Philip talked about growing up in Africa, it all sounded very romantic. One day, I suggested we create a fictional story based on his childhood. We worked together very hard to make SAHWIRA come to life.